Great Explorers Week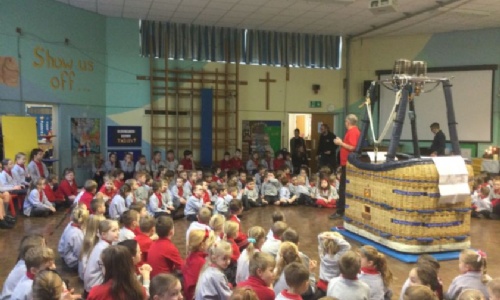 What an incredible enhancement week we have had at St. George's. Every class focused on a different great explorer, as well as an artist from the country they visited. Exploration of space, land and underwater was covered, with some fantastic visitors to school to further enhance learning.
The week began with a visit from a hot air balloon, This inspired the focus questions for the week:
What does it take to be an explorer ? Where will we explore next?
We then had the chance to learn about exploration in the polar regions, with DanTastic the explorer and found out why igloos don't melt (even if you light a fire inside) and why jars of spices once cost £1000.
Day 2 saw a visit to school from a real life explorer, Jacki Hill Murphy, who explained all about the great pioneer female explorers and all the hardships they had to overcome. She spoke about the legend of the lost gold of the Inca, in Peru. She showed us the map that she followed to try to find it. The trail went cold, so perhaps one of the children might take up the search in the future.
We also enjoyed orienteering where we have developed our map reading, team work and problem-solving skills.
Day 3 we moved to space exploration with a visit to the Wonderdome planetarium. We considered further space exploration in the future and how this might lead to people living on the moon! As well as lots of wonderful artwork, based around each classes' artist, we had a visit from AS Creatives where we discussed the lives of well known explorers.
Day 4 we went under the sea. This involved a visit with a very knowledgeable Oceanographer, Dr Hannah Whitby and a PHD student, Millie, from University of Liverpool. We also enjoyed a very active session with Freshwater Theatre Company.
The final day involved lots of food tasting, from various regions around the world. The children were given the opportunity to share the work they had done with another class and the week culminated with a sharing assembly and a brilliant performance from a samba drumming band.
What a week!
Take a look at the gallery for some amazing photographs.