Week Ending 22nd September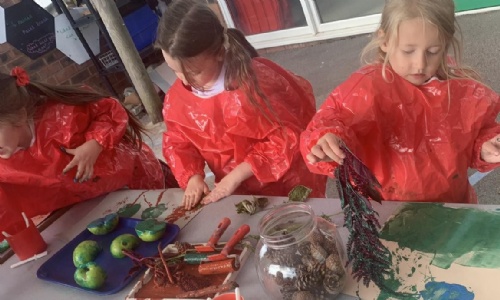 ACORN CLASS
Ahoy, Mateys!
It's been an epic week of adventure and learning in Acorn Class, and we can't wait to share all the exciting things our young explorers have been up to:
Pirate Ship Building: Our little adventurers turned into shipbuilders as they crafted their very own pirate ships, setting sail on imaginative journeys across the high seas!
Captain Flynn and the Pirate Dinosaurs: We've been swept away by the thrilling tales of Captain Flynn and his Pirate Dinosaurs, charting their daring escapades on the briny blue.
Dinosaur Ice Rescue: The Acorn Class heroes sprang into action, rescuing dinosaurs trapped in ice. Their teamwork and problem-solving skills were nothing short of amazing!
Pirate Outfit Design: Aye, our creative minds got to work designing and crafting their very own pirate outfits. Our little pirates are ready to rule the seven seas in style!
Printmaking Exploration: Acorn Class delved into the world of printmaking, collecting a treasure trove of natural and man-made forms to discover different ways to create art.
Salt Fossil Dinosaur Creations: We embarked on a prehistoric adventure, crafting Salt fossil dinosaurs in preparation for next week's exciting journey into the past!
Mathematical Prowess: Our young reception mathematicians solved puzzles and sharpened their skills by finding matching pairs and sorting them. The quest for mathematical mastery continues!
Spaghetti Sorting: We even had a spaghetti-sorting challenge that not only tickled our taste buds but also helped us kickstart our phonics journey. Linguistic adventures' ahoy!
The Acorn Class crew is sailing through the school year with boundless enthusiasm, creativity, and a thirst for knowledge. We can't wait to see where our next adventures take us!
OAK CLASS
What an incredible week it has been for Oak class! We've been up to some fantastic activities that we can't wait to share with you all.
We started off the week with an inspiring assembly in celebration of the International Day of Peace, reminding us of the importance of unity and harmony.
In our English lessons, the children have been on an amazing literary journey inspired by Arthur Ransome's classic novel, "Swallows and Amazons."
Their creativity has known no bounds as they embarked on the adventure of crafting the next chapter of this beloved tale.
In Science, we embarked on a fascinating journey into the fossilisation process. We even teamed up with our friends from Acorn Class to create our very own fossils using salt dough.
Geography took us on a breathtaking adventure to explore the physical features of the stunning Lake District, with a special focus on the picturesque lakes that adorn this region.
Our PE sessions were all about showcasing our football skills, thanks to the fantastic collaboration with Chorley SSP.
And let's not forget the heart-warming moments of compassion as we engaged in paired reading with the younger children from Acorn class. It's incredible to see our children nurturing a love for reading and supporting one another.
We're so proud of all the hard work and enthusiasm our class has shown this week. It's been an educational and fun-filled adventure, and we can't wait to see what next week brings!