Week Ending 3rd November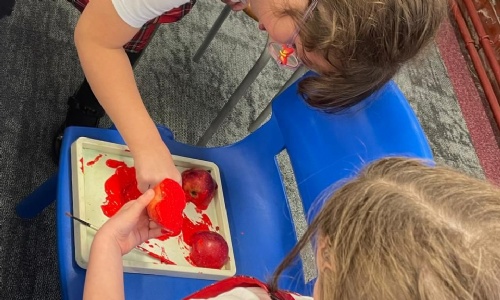 * Acorn Class Update *
It's been a whirlwind of fun and learning this week, and we're excited to share the highlights with you:
Toy Hospital Role Play: Our little doctors and nurses have been hard at work in the toy hospital! The dramatic play is in full swing, and the hospital welcomed its first "patients." The creativity and caring in this role play is heartwarming to witness. We had a surprise visitor at our school – the school eye nurse!
The kids were overjoyed to have the school nurse stop by our "hospital" to share some insights about her role and to answer their curious questions. It was an incredible opportunity for our little doctors and nurses to learn more about the world of healthcare.
We believe these real-life experiences make learning even more exciting for our little ones. We hope they're eager to share their newfound knowledge with you at home.
Maths Magic: Reception children have embarked on a fantastic adventure in their "Circle and triangle Hunt" unit!
They've proven to be absolutely fabulous circle and triangle hunters, using their keen observation skills to spot these shapes in their everyday surroundings.
Halloween Fever: Halloween preparations are in full swing! We've been busy baking delicious Halloween cookies and crafting spooky decorations. We were so pleased to see everyone enjoying our creations at the Halloween disco.
DT Unit: Our Design and Technology unit kicked off with a plea for help from the three little pigs. Acorns leaped into action, using their creative minds to design a new house for these beloved characters. It's incredible to see their problem-solving skills at work.
We're so proud of all the hard work and enthusiasm our little ones bring to school every day. Thank you for your ongoing support and involvement. Keep an eye out for more updates on our exciting journey!
* Oak Class Update *
This week, our children embarked on our special half-term journey with the theme, "We Will Remember."
The entrance hall welcomed them with a beautiful sea of poppies, drawing them in with curiosity every day as new additions graced the area.
In English class, the week began with the children having to take cover in an air raid shelter, before being evacuated to the countryside, away from their families. Inspired by this, the children have delved into the heartwarming story of "Goodnight Mr. Tom," exploring the adventures of a young boy evacuated to the countryside during World War II.
They've already dived into the intriguing characters of Mr. Tom and Willie.
Meanwhile, our budding engineers in DT have kicked off a fascinating unit on structures.
They're crafting their very own warhorse structures inspired by our gripping guided reading book, "War Horse" by Michael Morpurgo.
Art brought both classes together for a touching collaborative project, resulting in a stunning memorial for our Remembrance-themed entrance hall.
In the world of numbers, our Year 3 and 4 children are tackling the multiplication challenges, while our Year 6 successfully completed their division unit this week.
To add an extra dash of excitement, in PE, we've teamed up with Chorley SSP for a thrilling gymnastics topic. Get ready for flips, rolls, and a whole lot of fun!
Stay tuned for more adventures and learning as we journey through this history focused half-term with "We Will Remember."